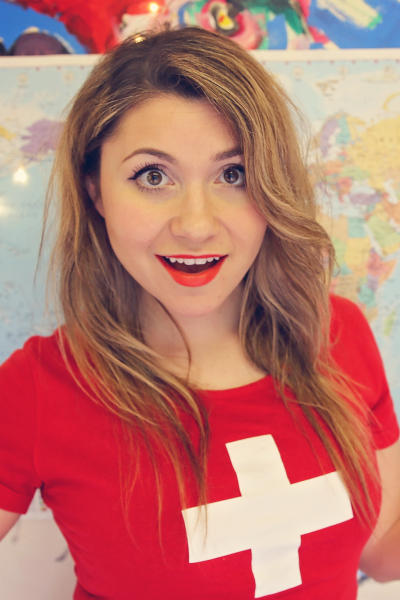 My name is Nadine Sykora and I am a Canadian Travel Vlogger, Blogger and Comedy Youtuber.
I am a visual story teller and lover of all things video as I have made over 500+ videos, have over 33.6+ million video views and over 170,000+ subscribers!  My travel credentials include over 40 countries visited and 4 countries lived in; all recorded on video over the last 4 years.  My passion for travel and love for comedy is contagious and I love to share the destinations I visit in fun and funny videos and blog posts.
I have had the pleasure of working on videos and campaigns for Contiki, Viator, British Airways, Canon, Sanyo, Expedia, Hostelworld, Hostelbookers, Pantene, Motts, Staples, Microsoft Windows, CBC, The CW and FOX. I have also produced videos for several tourism boards including  Fiji, China and Tobago.
I also like to make silly vlogs in my bedroom that inspire others to follow their dreams!
SUBSCRIBE for wanderlust, comedy and inspirational videos/vlogs! I upload new videos 2x every week :) 
"Life is short, break the rules, forgive quickly, kiss slowly, love truly, laugh uncontrollably, and never regret anything that made you smile. Twenty years from now you will be more disappointed by the things you didn't do than by the ones you did. So throw off the bowlines. Sail away from the safe harbor. Catch the trade winds in your sails. Explore. Dream. Discover." ― Mark Twain
Some examples of my work:
Fiji: June 2014
Mexico: September 2014
China: March 2014